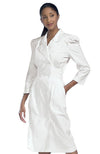 Church Usher Uniform
Shipping calculated at checkout.
Women Sizes 6-24
If the size is not listed, we can order for you!
Call (803)-536-9254.
THE DESIGN ON THE NECK COLLAR IS FLOWERS, YOU MAY ORDER A FULL OE 3/4 SLEEVE 
PLEASE CALL TO CONFIRM AT 803-536-9254  WE WANT TO MAKE SURE YOU RECEIVE THE SIZE YOU WANT..DUE TO COVID, OUR  BUSINESS IS NOT  DURING EXCHANGES. OR RETURNS. THANK YOU SO MUCH FOR YOUR UNDERSTANDING.